You have three experienced Educational Supervisors
Helen Kefford:  I qualified in 1998 from Bristol Dental School and undertook Dental Foundation Training on the Bedford Scheme. I have also completed the MFGDP and Post-Graduate Certificate in Dental Education qualifications. My particular interest is adhesive dentistry, and I have benefited from working on a therapeutic PDS scheme for two years.  I have been an Educational Supervisor since 2002 and love seeing the Foundation Dentists grow their skills and confidence during their DFT year.
Heidi Cheung: I graduated in 2005 from Bristol Dental School, and completed my Dental Foundation Training at the practice on the Bedford Scheme. I have completed the MJDF diploma, as well as the Postgraduate certificate in Dental Education.  I started as a joint supervisor with Helen, and have since enjoyed mentoring new dentists to develop and grow throughout the Foundation year.
Dipesh Thakrar: I graduated from Liverpool Dental School in 2008 and completed my Dental Foundation Training at this practice. After this, I undertook six months as a Senior House Officer in the Oral and Maxillofacial Department at Luton & Dunstable, Bedford and Milton Keynes hospitals. I then returned to Sandy to continue as an associate dental practitioner. I have also undertaken an Endodontic Certificate at the Eastman Dental Hospital, and I have a keen interest in Oral Surgery. I have even gone on three visits to Tanzania to work for Bridge2Aid, a charity that trains medical officers in removing teeth for patients in rural areas. I found my year of training very rewarding, and my subsequent training experiences have been fruitful.
I look forward to supporting and nurturing newly qualified dentists to help them achieve those first steps in their career.
The Practice: Sandy is easily accessible from the A1 and is approximately a 30-minute drive north of the M25. The railway station that connects to Peterborough and Kings Cross is within a 10 minutes walk.  The practice is situated on the Market Square in the heart of the town, with a large car park nearby.
The practice building was originally a school and then, more recently, a bank.  The principal, Uday Patel, took over the premises and established the dental practice in 1991, with a strong focus on patient care. The practice is recognised as BDA Good Practice member and won Dental Protection's 'Dental Practice of the Year' award.  The friendly and welcoming team comprises of seven dentists, eight nurses, two receptionists, and two practice managers.  The team are experienced in working with FDs and will help you make the transition into practice. The five modern, well-equipped surgeries are air-conditioned, fully computerised using the Exact software system - utilising both computers and tablets for clical records and digital form completion - and have individual intra-oral digital x-ray units. There is also a dedicated, central decontamination room.  We offer a comprehensive range of NHS and Private treatments for all age groups of patients.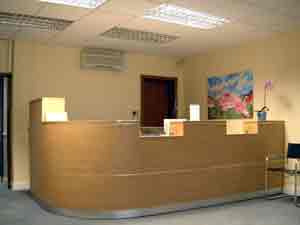 The Area: Home of the RSPB headquarters, Sandy is a countryside town, but its proximity to the A1 makes commuting convenient and places the town within easy reach of Cambridge, Peterborough and Bedford.
Other Points of Interest: The practice has a sister practice in Bedford and the staff combine for clinical audit meetings, peer review meetings, staff training and social events. Sandy and its many surrounding towns and villages have many properties available for rental or purchase, including older style houses and many newer modern estates. The practice owner, Uday Patel has been involved with Dental Foundation Training for many years and is currently the TPD for the Peterborough scheme.  Five previous FDs are still working at the practice.
Dental Foundation Training at Sandy Dental Care:
The practice has committed 22 years of training for Foundation Dentists. The practice is particularly suited to someone who is motivated and enthusiastic about providing dental treatment to a high standard within the general practice setting.  We encourage our FDs to come to us for advice and help and are looking for FDs who want to learn and develop but who will also enjoy being part of the team and the foundation training year.
Foundation Dentist (FD) working hours Our practice employs two FDs. Both work on a rota to complete 28 hours of work when there is a study day that week (study days usually fall on Fridays), and 35hours work in practice is expected when there is no study day that week. NOTE: FD working hours will fall between 8am-5pm.
Statements from Foundation Dentists
Ting FD (2019-2020)
''Being a Foundation Dentist here has been a thoroughly enjoyable experience. Our Education Supervisors Heidi, Helen and Dipesh have offered enormous supportive.The rest of the team are very approachable and we have integrated well into the family! Our ESs ensured that we kept up with our learning even during the challenging times. Through the year, with the support from my ESs and dental team, I have became more confident in my clinical work and working in practice.''
Natasha FD (2019-2020)
I have thoroughly enjoyed my time as a Foundation Dentist at Sandy DentalCare.
Not only are our trainers Helen, Heidi and Dipesh extremely supportive and hands-on we are also well looked after by the wider team. Since working here my confidence in general practice has improved immensely and this practice has ensured we start our careers in dentistry in the strongest way.
Rosie FD (2018-2019)
This is an incredibly friendly practice with extremely approachable foundation supervisors. The main focus here is on developing you as a person and as a dentist and this practice has the added benefit of the principal being the TPD (Training Program Director) for Peterborough working at, and owning the practice. I would thoroughly recommend this practice as a place to learn and develop your skills in dentistry and I could not have asked for a better placement for my Foundation Training. Practice socials are always well attended due to the friendly atmosphere and environment that has been created, plus the enjoyable nature of working here is clearly shown by the amount of Foundation Dentists that choose to stay on as a full time associates after they have completed their Foundation Training.